This post brought to you by Vectra flea & tick control. All opinions are 100% mine.
If we have pets we treat them as our own family. We have the instinctive feeling of doing everything for our pets just like what we will do for our kids and loved ones. The love we give to them is also compensated by the loyalty our pets extended to us. So what better way to protect our pets is by using the Vectra 3D for flea and tick control.
Anywhere you live, pets are susceptible to vectors such as ticks and fleas and only takes one bite for the disease to spread. As a loving owner, we can use Vectra 3D, which is available in vet's office, to control it. Vectra 3D is for dogs and puppies. It is fast-acting. It kills parasites as it comes in contact. It has broad-spectrum effect that it repels ticks, fleas, mosquitoes, lice and mites to name a few. It lasts long also even after bathing and swimming.
Here's a family-friend's dog, Apollo, relaxing in his crate enjoying the free of ticks and fleas.
For all pet lovers you can win a $100 gift card for your next vet's visit by entering in Vectra's Protect the love Facebook Sweepstakes. A gift card will be rewarded every week for the duration of the sweepstakes. Each entrant can also win a free dose of Vectra flea & tick control. Just print out the coupon for free dose to redeem at Vectra veterinarian near you. Enter for the Sweepstakes then visit FirstDoseFree.com and fill out the form.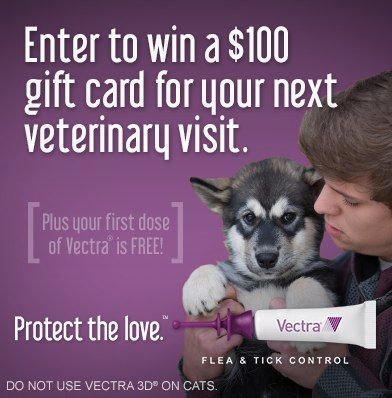 For all those interested, always check out Vectra and like them on Facebook to check out what's new with them. You can also follow them on Twitter @VectraPet. A happy pet is also a happy owner and I know all pet lovers and owners want that. Check out this video below!